Destinations: Photography Masterclass
Olympia, London.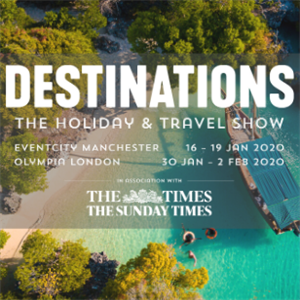 Each photography masterclass is priced at £30. This includes one free admission ticket to the Destinations show and a travel discount voucher of £50 with either Intrepid Travel and/or Exodus Travels.
There are three masterclasses being held on each day of the show.
If you are booking a class for someone other than yourself, please provide their name and email address below. The course host will be emailing class details and instructions to all attendees so they can get the most of the Masterclass.
Destinations: The Holiday & Travel Show advance ticket box office is now closed. Tickets can be purchased at EventCity at the Show box office, for £9.95. Plan your day at www.destiantionsshow.com. The Show is open from Thursday 16 - Sunday 19 January.